<![CDATA[ ]]>http://pagead2.googlesyndication.com/pagead/show_ads.js
Posted By Kory Kinslow in SEC Basketball
Mar 29, 2017
The SEC certainly showed up to play in the NCAA Tournament. Out of the 5 teams that got in, 4 teams won in the first round, with Vanderbilt being the only team to not win a game. Arkansas was the next to go down…
//pagead2.googlesyndication.com/pagead/js/adsbygoogle.js
Posted By Kory Kinslow in SEC Basketball
Mar 15, 2017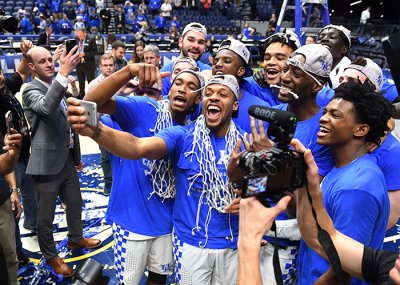 The SEC made a better initial showing in the NCAA Tournament than people thought the conference would have a few weeks…
Posted By Kory Kinslow in SEC Basketball
Feb 12, 2017
At this point in the season the SEC has 3 good teams at the top and 9 teams kind of bunched up after that with two teams bringing up the rear. Kentucky, South Carolina…
Posted By Kory Kinslow in SEC Basketball
Mar 14, 2016
We have only three teams in the NCAA Tournament this year. I guess I can understand that, as the league may have been not as Nationally recognized this year, but I think there was at least one other team that deserved to be in.
Posted By Kory Kinslow in SEC Basketball
Mar 16, 2015
The SEC was a lot deeper than most thought they would be. With 8 teams playing in the post season, 5 in the NCAA tournament and 3 in the NIT, the teams truly showed that the SEC is back on the map as a power in college basketball. The NIT features Vanderbilt, Texas A&M, and Alabama. The NCAA tournament will feature Kentucky, Arkansas, LSU, Georgia, and Ole Miss. It was certainly a good season for the SEC.
Posted By Kory Kinslow in SEC Basketball
Mar 02, 2015
The SEC has proven to be more powerful than the analysts thought at the beginning of the season. It appears, by all accounts, that the SEC should produce 5-6 NCAA tournament teams. The SEC tournament should be very exciting. Teams will be trying to prove that they should be in the NCAA. I believe that we will see a couple of upsets, but there is one constant that has been proven throughout the season and that is that Kentucky is the best team in the country.
Posted By Kory Kinslow in SEC Basketball
Jan 07, 2015
As we stand just a few days away from conference play the SEC basketball landscape is pretty confusing and murky with one exception that we all know, which is Kentucky. Kentucky is obviously the best team in the conference as well as the country. I do not think they will lose a conference game. The toughest team they had to play this season before the tournament was Louisville and they have defeated them. After Kentucky everything is confusing. I think Florida will finish second as they are finally getting their whole team together.
Posted By Kory Kinslow in SEC Basketball
Apr 08, 2014
The Uconn Huskies won the NCAA Championship of Men's Basketball tonight by defeating the Kentucky Wildcats by a narrow margin. Uconn came out of the gates strong and while Kentucky made run after run, the Huskies proved to be more experienced and mentally tougher. The game really came down to the inability of Kentucky to make free-throws. It could have simply been nerves. Randle did not play his best game, but I felt that Young showed that he too, will be a major factor in the NBA in the future and I'm sure in the draft this summer.
Posted By Kory Kinslow in SEC Basketball Blog
Apr 03, 2014
The season has come down to it's final four, and to the shock of many, the SEC has two teams left standing. This tournament did not go the way most picked, but Kentucky may just be the shock of the tournament. Florida was the number one overall seed and most prognosticators had picked them to get the the round of four. Kentucky was given an eight seed and had to beat undefeated Wichita State and Louisville, before defeating Big Ten Power and number 2 seed Michigan to get to the semi-final round.
Posted by Kory Kinslow in SEC Basketball
Mar 31, 2014
The first night of the Sweet 16 saw the SEC team that actually got respect, with Florida playing 4 seed UCLA. UCLA kept it close for a while, but Florida ended up dominating the second half with a 79-68 win for the Gators. The SEC Player of the Year and SEC Tournament MVP Scotty Wilbekin took over in the second half after a sub-par first half. He showed the toughness that has propelled this Florida team all year round and won them the overall number 1 seed in this tournament.
While the SEC is known primarily as a football conference (they have won the last six national championships), the conference is also a perennial basketball power. Kentucky is back on top. Florida is just a few years removed from back-to-back national titles, and John Calipari has returned Kentucky to prominence once again. Arkansas also looks to be on its way back, which can only help the SEC on a national front.
//pagead2.googlesyndication.com/pagead/js/adsbygoogle.js
The strength of the basketball programs in the SEC once again lie in the East, with Kentucky, Florida, Tennessee, Georgia, and Vanderbilt all looking primed to compete for the SEC Championship this season. The East should be a hard fought division, and I highly doubt any team from the East will be able to get through the division with only one or two losses.
Florida looks to be the class of the SEC this season; there is hope in Gainesville that the Gators will return to the Final Four after three years away. They return all five of their starters, and they have a tremendous freshman class that looks to make a large splash early on.
The SEC West looks to be wide open this season, with Mississippi State being the only team that is really set, and even the Bulldogs have questions that need to be addresses before the season really gets underway. Ole Miss may challenge for the crown, but they have more question marks than Mississippi State does at this point. Arkansas still looks to be a year away from seriously contending for the SEC crown, and Alabama is looking to finish in about the middle of the pack once again.
There is not that much separation between the top conferences this coming season, with nearly every conference having a team that has Final Four talent and dreams. Here is how our rankings of the conferences stack up for the beginning of this season:
ACC – The ACC looks to be the top conference going into the season. They have the defending champion Duke Blue Devils leading their conference and North Carolina looks to be running on all cylinders once again. When one adds in dark horse teams such as North Carolina State, it should be obvious that the ACC is the class of college basketball right now. [Update: Obviously with only Duke in the Top 25, ACC B-ball is NOT #1 at the moment. Still, they have won 5 of the last 10 NCAA Championships and more NCAA Tournament games in the past 20 years than any other conference. So, we'll leave them be for now.]
Big Ten – The Big Ten comes in second on our list, with Michigan State leading the way for the conference. This conference looks to have much more parody than the ACC, with Ohio State, Minnesota, Purdue, and Wisconsin all looking poised to make their move to the top of the conference. A conference this deep deserves to be ranked number two.
Big East – It may come as a shock to some that the Big East is only number three, but they just do not have the depth of talent that the ACC or Big Ten have this season. Pittsburgh and Syracuse are the best this league offers this season, but the middle of the league is just as good as some of the upper echelons of the weaker leagues.
SEC – The SEC is looking to make its move this season, and return to the top of the basketball tier. With teams like Florida and Kentucky loading up for this season, it should be a very competitive run to the SEC and NCAA Championships.
Big 12 – The Big 12 is in the same boat as the SEC. They have a few great teams, but not many good teams past them. Texas is a perennial underachiever, and I would not recommend getting too excited about them. Kansas State and Missouri are both great teams that should compete for the Big 12 title as well Final Four appearances.
Pac-10 – The Pac-10 looks to be at the bottom of the basketball tier this season. UCLA is in an odd slump, and Arizona and California are both down as well. The Pac-10 may have to live with only having one or two teams in the NCAA Tournament this season.
New this season — all SEC basketball teams ranked together, 1-12; not separated by East/West Divisions. The idea is to fix the unbalanced division situation we had last year when Miss. State went 9-7 in the SEC and still got a first round bye (and #2 seeding) in the SEC B-ball tournament ahead of teams in the East with a better record.
1. Florida Gators – Made it to the "Great 8" in the NCAA Tourny. For this year, they have lost last year's SEC Player of the Year — Chandler Parsons; but remain loaded, especially at guard (Erving Walker). Look for another trip to the NCAA Tournament and if they can develop some of their big, inside players — they could make a run.
2. Kentucky Wildcats – The cream of the crop. Not just in the SEC, but nationally. UK is loaded as has become usual in the Calipari era. Terrence Jones should be player of the year in the SEC and Anthony Davis — freshman of the year. All in all, 4 players will be first or second team All-SEC. Look for the Cats to win the SEC handily and challenge for the national title.
3. Vanderbilt Commodores – This may be the year for the Dores. All 5 starters from last year are back. John Jenkins should be 1st team all – SEC and Jeffery Taylor — second team all-SEC. Vanderbilt is always disciplined and well coached. If they can toughen up their defense, especially in March and April — look out!
4. Missouri Tigers – The Missouri Tigers have a 2 game winning streak and now have the second best over-all record in the SEC and are fourth according to overall standings with a 4-3 SEC record and 16-4 over all record.  This is a team that we all thought would be tournament bound in non-conference play, but a sub par performance early on in SEC play did not look like it would end soon.
5. Alabama Crimson Tide – We're picking Alabama to come in 5th in the SEC. Last season the Crimson Tide showed improvement; this year we expect to see them in March Madness. JaMychal Green will be an All-SEC player and lead the way.
6. Mississippi State Bulldogs – MSU was a big disappointment last year. But, the talent is still there and we think they put it together well enough to get an NCAA bid. Dee Bost should be a second team all-SEC player.
7. Arkansas Razorbacks – UA has a new coach in Mike Anderson. Look for them to be decent; middle of the pack; probably get an NIT bid at the end of the season.
8. Georgia Bulldogs – Trey Thompkins and Travis Leslie, the two leading scorers from last year's team are gone. There are some talented new players but, it will be a rebuilding year.
9. Ole Miss Rebels – The Rebs lost two of their top scorers from last year's team but picked up Jalen Kendrick. Ole Miss will be competitive but not so much at the top of the league.
10. LSU Tigers – LSU will be better this year. Of course last year they were the worst team in the SEC. This year, they maybe move up to #9 or so.
11. Tennessee Volunteers – Crazy year last year. In December the Vols looked like one of the best teams in the country. By the end of the year their coach was fired and they had lost to Michigan by 30 points in the first round of the NCAA tourney. New coach Cuonzo Martin will have to rebuild. Sort of sounds like the Vols' football program….
12. Auburn Tigers – Suffered through a tough year in Tony Barbee's first season as coach last season. Unfortunately, we expect another rough year. But, things should improve when Noel Johnson becomes eligible in December.
13. South Carolina Gamecocks – Things have been bad in Columbia for a while and will get even worse this year. Look for Darren Horn to send out his resume soon.
SEC BASKETBALL ARTICLES
SEC BASKETBALL COACHES BIOGRAPHIES
SEC BASKETBALL PLAYERS BIOGRAPHIES
NCAA BASKETBALL ARTICLES
NBA BASKETBALL ARTICLES
SEC BASKETBALL!!
SEC BASKETBALL!!
SEC BASKETBALL!!
The Best Sports Quotes will motivate and inspire you. Here are our Best Sports Quotes. You also might like to read Best Sports Nicknames.
http://../www.runzoo.com/ads.html
http://ssjs/c2/invitation.js.pagespeed.jm.XcPs7-8vxt.js
What do you think?

We'd love to hear your comments and/or opinions. If you submit them here, other visitors can read them, rate them and comment on them. An e-mail address is not required.
Enter Your Title
Your comments go here.
[ ? ]
Entering your comments is easy to do. Just type!…
Your comments/story will appear on a Web page exactly the way you enter it here. You can wrap a word in square brackets to make it appear bold. For example [my story] would show as my story on the Web page containing your story.
TIP: Since most people scan Web pages, include your best thoughts in your first paragraph.
Upload 1-4 Pictures or Graphics (optional)[ ? ]
Do you have a picture to add? Great! Click the button and find it on your computer. Then select it.
Add a Picture/Graphic Caption (optional)  
Click here to upload more images (optional)
Author Information (optional)
To receive credit as the author, enter your information below.
Submit Your Contribution
Check box to agree to these  submission guidelines.
<![CDATA[document.localized_string_captcha_instructions='Please enter the word that you see below. (If you cannot see it, click to hear the word, and then enter it.)';document.localized_string_invitation_map={"submission_no_title":"Your submission must have a title.","submission_no_body":"Your submission body is empty.","submission_title_too_long":"Your submission title must be a maximum of 200 characters.","submission_title_no_html":"Your submission title may not contain html.","submission_body_too_long":"Your submission body must be a maximum of 10000 characters.","submission_not_accepting":"Sorry, we are not accepting any new submissions at this time for this page. Please return in a few days to add your submission.","submission_caption_too_long":"Your image caption must be a maximum of 200 characters.","submission_caption_no_html":"Your image caption may not contain html.","submission_image_file_types":"Your image must be a jpg or gif.","submission_name_too_long":"Your name must be a maximum of 200 characters.","submission_name_no_html":"Your name may not contain html.","submission_location_too_long":"Your location must be a maximum of <> characters.","submission_cant_in_preview_mode":"This functionality not available in Preview Mode.","submission_please_check_checkbox":"Please check Submission Guidelines checkbox.","submission_captcha_required":"You must enter a word for the submission challenge graphic."}]]>http://ssjs/fork%2c_foundation_DEVELOPMENT.js%2bcommon%2c_captcha_delay.js.pagespeed.jc.NCmNNInyL8.js
(You can preview and edit on the next page)
What Other Visitors Have Said
Click below to see contributions from other visitors to this page…
The MVP Race Not rated yet
The 2016-2017 NBA season is two man race for the MVP. Russell Westbrook from the Oklahoma City Thunder has been nothing less than spectacular. He has …
               <a href="http://www.secsportsfan.com//rpi-rankings.html"><b>RPI Rankings</b></a> Not rated yet<br />See  Current College Basketball RPI   on this site for latest RPI rankings.  Obviously though, the NCAA tournament is about individual teams, so RPI …

               <a href="http://www.secsportsfan.com//support-coach-pearl.html"><b>Support Coach Pearl</b></a> Not rated yet<br />go coach pearl--we are behind you all the way, thanks for everything.

               <a href="http://www.secsportsfan.com//why-do-sec-officials-favor-kentucky.html"><b>WHY DO SEC OFFICIALS FAVOR KENTUCKY? </b></a> Not rated yet<br />WHY WAS AN ALABAMA PLAYER EJECTED FOR THROWING AN ELBOW AND A KENTUCKY PLAYER WAS NOT?  THE OFFICIAL LOOKED AT A REPLAY SHOWING COUSINS THROWING AN ELBOW …

               <a href="http://www.secsportsfan.com//tennessee.html"><b>Tennessee</b></a> Not rated yet<br />I am interested in seeing how Tennessee's experience will do against Kentucky's just pure talent... This is a great example of both ends of the situation. …

               <a href="http://www.secsportsfan.com//acc.html"><b>ACC</b></a> Not rated yet<br />ACC number 3. Duke North Carolina then who????????????????   

               <a href="http://www.secsportsfan.com//are-you-on-drugs.html"><b>are you on drugs? </b></a> Not rated yet<br />sec basketball the best conference? You had 6 teams in the tournament and 1 made it to the sweet sixteen and got  murdered by Louisville. You use preseason …

     <!-- end: tool_blocks.c2.invitation.1831009 --> <p><a href="http://www.secsportsfan.com//index.html">From SEC Basketball to SEC Sports</a><br /></p> <!-- start: shared_blocks.121331592#above-socialize-it -->   <!-- end: shared_blocks.121331592#above-socialize-it --> <!-- start: shared_blocks.152353022#Bottom Links -->  <!-- end: shared_blocks.152353022#Bottom Links --> <!-- start: shared_blocks.121331580#socialize-it -->  <!-- start: tool_blocks.socializeit -->          <!-- end: tool_blocks.socializeit --><!-- end: shared_blocks.121331580#socialize-it --><!-- start: shared_blocks.121331589#below-socialize-it --><!-- start: tool_blocks.footer -->      <!-- end: tool_blocks.footer -->  By <a href="https://plus.google.com/116466222332198655310/posts?rel=author" target="_blank" rel="noopener">Mo Johnson</a>, Copyright © 2006-2021 SECSportsFan.com   <p><a href="#top">Top of this Page</a></p>  <!-- end: shared_blocks.121331589#below-socialize-it -->

Wait is there more to this story

http://CollegeBasketball.gameday.blog